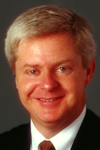 Bill Oates
CIO
City of Boston
Symposium Roles
CIO Award Finalist 2012

Panels Participated in
Bio
Bill Oates is the Chief information Officer for the City of Boston, Massachusetts. Oates was named to the Cabinet level position by Boston's Mayor Thomas M. Menino in June of 2006. As CIO, Oates is charged with spearheading the City's technology initiatives and is responsible for the delivery of IT services in support of the various city functions.

Under Bill's leadership, the City of Boston has been recognized as a leader in leveraging technology to improve citizen engagement and access to services. In 2011, Bill was recognized as one of the "Top 25 Public Sector Innovators" by Government Technology Magazine and was recently named the New England CIO Innovation Award winner by Mass High Tech.

Prior to joining the City, Oates served as the Senior Vice President & Chief Information Officer for Starwood Hotels & Resorts Worldwide, Inc. Based in White Plains, NY, Starwood is one of the leading hotel and leisure companies in the world. Named CIO in June, 2000, Bill was responsible for delivery of the Company's global information technology services.

A graduate of Boston College, Oates is also an attorney and member of the Massachusetts Bar. He received his JD from Suffolk University Law School in Boston and was awarded his LL.M in Global Technology Law in 2005.

Mr. Oates is based at Boston's City Hall. A native of the Boston area, Bill is married with two children.

"I am honored to be a part of the prestigious MIT Sloan Award for Innovation Leadership. This recognition is a result of the hard work and dedication of the entire City of Boston IT team. We are thrilled to be acknowledged as an organization that has made real strides towards transforming city government through innovative technology solutions"