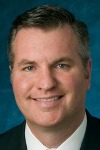 C. Scott Blanchette
CIO
Kindred Healthcare, Inc.
Symposium Roles
CIO Award Winner 2013
Speaker/Panelist 2013
CIO Award Judge 2014, 2015

Panels Participated in
Bio
C. Scott Blanchette is currently the Chief Information Officer for Kindred Healthcare, Inc (NYSE: KND). Ranked as one of Fortune magazine's Most Admired Healthcare Companies six years in a row, Kindred's mission is to promote healing, provide hope, and preserve dignity and provide value for each patient, resident, family member, customer, employee and shareholder we serve. Prior to joining Kindred, Scott served as Chief Information Officer at Vanguard Health Systems (NYSE: VHS) from May 2011 until Vanguard's October 2013 acquisition by Tenet Health. Prior to Vanguard, Scott served as Chief Information Officer for Healthways, Inc (NASDAQ: HWAY) from 2006 until 2011 and in senior management roles at Stanford University Medical Center and Ernst & Young. Prior to corporate life he spent more than 10 years in the US military. He is the 2013 recipient of the MIT Sloan Symposium CIO Leadership Award.
"It is a tremendous honor to receive this year's MIT Sloan CIO Leadership Award. Given the exceptional field of candidates considered, the innovative pioneers previously recognized, and the high standards for consideration, it is truly a privilege to see Vanguard Health Systems keeping company amongst such elite organizations. In my view this award also recognizes the entire team of professionals I have the privilege of working with every day at Vanguard. Their focus on innovation and exceptional service are instrumental to making Vanguard an inspirational and successful organization."