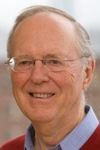 Cyrus "Chuck" Gibson, PhD '69
Sponsor Relations
MIT Initiative on the Digital Economy
Symposium Roles
CIO Award Judge 2014, 2015

Bio
Dr. Gibson is an independent consultant and teacher in IT strategy, IT management, and IT-driven digitization and business transformational change. His work has spanned over thirty years in academia and consulting. He currently works with the Initiative on the Digital Economy in the MIT Sloan School, and provides support to a Sloan Action Learning course on Data Analytics.
Prior to that Dr. Gibson was a Senior Lecturer at the Sloan School, where he taught IT-business management and field research seminars to undergraduates, MBA's and executive students and was involved in research on IT-enabled change management. He also worked in Sloan's Center for Information Systems Research with particular responsibilities for sponsor relationship management.
Until 1996 Dr. Gibson was a senior vice president at CSC Index, a management consulting firm in reengineering and information systems management, where he had been since 1978. Prior to that he was an associate professor at the Harvard Business School, where he taught in MBA and executive programs in organizational behavior and IT management and conducted research on organizational and behavioral change associated with the implementation of information systems.
Dr. Gibson's publications include the books, The Information Imperative (with Barbara Jackson), 1987, and Managing Organizational Behavior, 1980, and over twenty articles, including, "Managing the Four Stages of EDP Growth" (with Richard Nolan), Harvard Business Review, 1970, which set a pattern for subsequent research and management practice in the field of IT management, and "IT-enabled Business Change: An Approach to Understanding and Managing Risk", MIS Quarterly Executive Vol 2 No 2, Sept 2003. He has written over twenty-five case studies, with recent particular emphasis on the management of large scale IT-related change.
He holds a PhD from the Sloan School, MIT, an MBA from the Harvard Business School, and a BE from Yale. He has been a member of the Advisory Board of ICEX, Inc., a knowledge management services firm, and the Advisory Board of Plenia Locatel, a retail medical products firm doing business in Latin America. He has served on the Advisory Board of the Massachusetts Audubon Society, the Board of Directors of the Squam Lakes Association in New Hampshire, and has participated in several other volunteer organizations related to conservation and preservation.
Dr. Gibson and his wife Joanne live in Concord, Massachusetts. They have three grown children and ten grandchildren. He has a working knowledge of Spanish and enjoys hiking, birding, sculling, tennis, and reading.