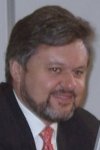 Eugene Shablygin
CEO
WWPass
Symposium Roles
Speaker/Panelist 2013

Panels Participated in
Bio
Eugene Shablygin is CEO and Founder of Manchester, New Hampshire-based WWPass Corporation (http://www.wwpass.com).
Mr. Shablygin is a nuclear physicist turned IT entrepreneur. After graduating Moscow State University with a degree in Theoretical Physics, and working several years in the field of symbolic computations and artificial intelligence, he launched Jet Info Systems, one of the leading IT solutions providers in Eastern Europe and ex-USSR. Mr. Shablygin continues to serve as the Chairman of the Board of Jet. In 2008, he started WWPass with an idea that information can be securely stored in a distributed environment. Several years of intensive research and development turned the idea into a patented working solution, which is used to safeguard personal information, replace vulnerable usernames/passwords with virtually unbreakable authentication systems. WWPass technology is used wherever one needs to protect sensitive information, providing access to those who are authorized, and keeping all possible perpetrators at bay.
Being lifelong Ham Radio operator and a private pilot, Mr. Shablygin is always looking for unorthodox solutions to common problems. He uses his knowledge of quantum mechanics in data processing, electronic engineering skills in people management, and airman's experience in navigating "the cloud".