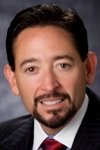 F. Thaddeus Arroyo
CIO
AT&T Services, Inc.
Symposium Roles
Speaker/Panelist 2014
CIO Award Winner 2014

Panels Participated in
Bio
F. Thaddeus Arroyo, Chief Information Officer, is responsible for AT&T's information technology. In this role, Arroyo oversees systems supporting all AT&T business segments and global compute and storage services. In addition to directing the company's internal information technology organization and internal and external customer-hosting data centers, he is responsible for AT&T's digital properties and capabilities across all business segments.
Arroyo has successfully advanced AT&T's IT transformation strategy from integration, rationalization, and capabilities development to an innovation-fueled organization focused on transforming business processes and market offerings in ways that create new value and velocity for AT&T's business, customers, and partners. Under Arroyo's leadership, AT&T has been consistently recognized for thought leadership and creativity in information technology innovation and execution. Awards include the Information Week 500 for six consecutive years and the CIO 100 Award in six of the last seven years. AT&T was also recognized by Computerworld as one of the 100 best companies to work for in IT for 2012 and 2013.
Arroyo has been recognized by numerous publications for his contributions to the IT industry through thought leadership, innovation, and creativity in planning and deploying technology.
"I am honored to be the winner of this prestigious MIT Sloan CIO Leadership Award. I'd like to recognize my tremendous, talented team and the entire organization for their supporting vision, the creative backbone to this success. This award demonstrates AT&T's commitment to ongoing advancement of our digital enterprise and to delivering superior business value to our customers."