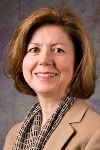 Georgia Papathomas
VP and CIO
J and J Pharmaceuticals
Symposium Roles
Speaker/Panelist 2013

Panels Participated in
Bio
Georgia Papathomas joined Johnson & Johnson on January 18, 2011, as Vice President and Chief Information Officer J&J Pharmaceuticals.
Prior to J&J, Georgia held the position of Senior Vice President-Chief Information Office and Corporate Innovation Officer at Boehringer Ingelheim Pharmaceutical in Ridgefield, Connecticut.
Georgia has worked with Pfizer as the Chief Technology Officer for EMEA and as Vice President-Global Customer Service Management; Lucent Technologies as Vice President-Global Professional Services/Network Solutions; and at AT&T Bell Labs.
Georgia received her Ph.D. Engineering Science; her M.S. Engineering Mechanics, Sloan Fellowship; and B.S. Civil Engineering all from Columbia University in New York.
Among her affiliations, she is on the Executive Board for Patient Care Primary Care Collaborative, on the Board of the National Center for Women in Information Technology, and on the Board of the Madison YMCA. Georgia is also a member of the North American Research Board, the New York Academy of Science, and the Sigma Xi Research Honor Society.