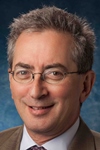 Harry Moseley
CIO & Managing Director
KPMG LLP
Symposium Roles
Speaker/Panelist 2014

Panels Participated in
Bio
Harry Moseley is a managing director and the Chief Information Officer of KPMG LLP. In this role, he leads the firm's KPMG Technology Services organization. He works closely with KPMG's Management Committee and business leaders on all aspects of the firm's technology platform and capabilities, including internal support and client-facing technology service offerings.
Harry's technology career spans more than 30 years and has been primarily focused within the financial services industry. Before joining KPMG, he was the Chief Information Officer of The Blackstone Group, a premier global investment and advisory firm.
Prior to joining Blackstone in 2005, Harry was Executive Vice President of technology for Mantas, a Herndon, VA.-based enterprise software company providing compliance and anti-money laundering solutions. His career also includes five years as a Managing Director with Credit Suisse First Boston and Managing Director/Chief Technology Officer-Americas with The Union Bank of Switzerland (UBS) for 14 years.