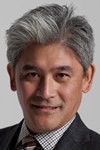 Kazuhiro Gomi
President and CEO
NTT America, Inc.
Symposium Roles
Speaker/Panelist 2013

Panels Participated in
Bio
Kazuhiro Gomi is a member of the Board of Directors for NTT Communications Corporation and leads NTT America as its president, chief executive officer (CEO) and a member of the Board of Directors.
In his role as CEO, Mr. Gomi is responsible for the direction and leadership of the organization's mission, strategy, annual goals and objectives, as well as for fostering a culture of success. He oversees all functional areas of NTT America, including the Data Center Services (DCS), Global Solutions, and the Global IP Network business units, which comprise the three operating units of NTT America, as well as all facets of legal, human resources, marketing communications and finance.
Mr. Gomi has been an NTT employee for more than 20 years, and was involved in product management/product development activities. In September of 2009, Mr. Gomi was first named to the Global Telecoms Business Power100, a list of the 100 most powerful and influential people in the telecoms industry. Mr. Gomi received a MSIE from the University of Illinois at Urbana-Champaign, and a MSEE from Keio University, Tokyo.