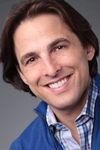 Mark Holst-Knudsen
President
ThomasNet
Symposium Roles
Speaker/Panelist 2014

Panels Participated in
Bio
As the president of ThomasNet®, part of Thomas Industrial Network®, Mark Holst-Knudsen is passionate about being part of a family-owned business and stewarding ThomasNet's mission to connect buyers and sellers of industrial/commercial products.
In his role as president Mr. Holst-Knudsen is responsible for the overall strategic direction and profitability of the company. Through his leadership, ThomasNet continues to improve the comprehensive content, design and functionality of its Product Sourcing and Supplier Discovery Platform, ThomasNet.com, to meet the evolving needs of serious buyers and drive more sales inquiries to suppliers.
He also oversees the development and expansion of other Thomas programs to help manufacturers and distributors grow and operate more efficiently. These include Results Powered Marketing (RPM), an agency marketing service, and Thomas Enterprise Solutions, a group that enables suppliers to syndicate their product data across systems and sales channels.
Mr. Holst-Knudsen holds an MBA in marketing and finance from New York University (NYU) Stern, and earned his undergraduate degree in music from Connecticut College.