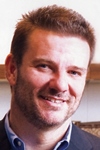 Michael Relich
Chief Operating Officer
GUESS?, Inc.
Symposium Roles
CIO Award Finalist 2013
Speaker/Panelist 2013
CIO Award Judge 2014, 2015

Panels Participated in
Bio
Michael Relich is the Chief Operating Officer of GUESS?, Inc., a global lifestyle brand that designs, markets, distributes and licenses a full collection of contemporary apparel and accessories through its own branded stores and better department and specialty stores around the world. He is responsible for leading GUESS' global operations and driving long-term strategic growth initiatives. Prior to his appointment as COO in 2013, Mr. Relich, a 2013 MIT CIO Leadership finalist, served as the CIO for GUESS?, Inc., where he was responsible for building the system infrastructure that enabled the Company to grow from a $640 million North America-centric business in 2004 to a $2.6 billion global operation with over 1,700 stores in 87 countries today.
Mr. Relich has more than 30 years of retail operations and systems experience. Prior to joining GUESS? Inc., Mr. Relich was Chief Information Officer and Senior Vice President of MIS and E-Commerce for The Wet Seal, a specialty retailer with 621Wet Seal, Arden B. and Zutopia stores., where he was instrumental in setting and implementing strategic systems initiatives to support Wet Seal's growth. Prior to that, Mr. Relich was Senior Vice President, Engineering at Freeborders, Inc., where he was responsible for the management of two software labs developing collaborative, Java-based E-commerce applications.
"I am truly honored to be a finalist for the prestigious MIT Sloan CIO award and would like to thank the entire Guess IT team. Their dedication and hard work in providing innovative tools, analytics and solutions for the business have transformed and enhanced the business globally."