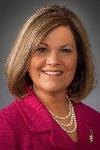 Rebecca Rhoads
President, Global Business Services and CIO
Raytheon Company
Symposium Roles
Speaker/Panelist 2014
CIO Award Finalist 2014

Panels Participated in
Bio
Rebecca Rhoads is president of Global Business Services (GBS) and chief information officer (CIO) of Raytheon Company. Rebecca was named CIO in April 2001 and is responsible for the company's global IT strategy, processes and personnel. Her vision to leverage common systems and deliver business value was instrumental in Raytheon establishing GBS in January 2013. She leads the shared services group in expanding common business operations across the functional service delivery areas for supply chain, finance, IT, HR and advanced media.
An elected company officer, Rhoads chairs the Investment Committee and serves as Raytheon's Executive Diversity Champion.
With more than 35 years of defense industry experience at General Dynamics, Hughes and Raytheon, she is active in many steering groups, advisory boards, and councils including the Aerospace Industries Association Business Technology Council, the IBM Advisory Council for CIO Center for Leadership, and the Massachusetts Technology Leadership Council. She also sponsors Massachusetts Institute of Technology Center for Information Systems Research.
She was most recently inducted into the Cal Poly Pomona Engineering Hall of Fame in 2014 and has received numerous other accolades. Rebecca holds bachelor and master's degrees in electrical engineering from California Polytechnic University, and a master's degree in executive management from UCLA.
"While I am honored to be among such an accomplished set of finalists, for me this is recognition of the tremendous work by my team and Raytheon in leading the way as a digital enterprise for our customers and industry."