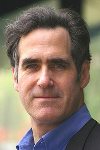 Richard Hunter
VP & Gartner Fellow
Gartner Group
Symposium Roles
CIO Award Judge 2015

Bio
Richard Hunter is vice president and Gartner Fellow in Gartner's CIO Research Group, where his recent work has focused on issues of interest to CIOs, including risk and value. Mr. Hunter is the author of the acclaimed books "World Without Secrets" (Wiley, New York, 2002) and "IT Risk" (with George Westerman, Harvard Business Press, Boston, 2007). His most recent book, "The Real Business of IT," also co-authored with George Westerman, was published by Harvard Business Press in October 2009, and was named by CIO Insight Magazine as the best business/IT book of 2009 in December of that year.
Mr. Hunter is in much demand as a speaker and advisor to CIOs.
Mr. Hunter joined Gartner in 1995 as a research director in the application development and management service. He was appointed vice president and director of research for application development in 1998. He was appointed a Gartner Fellow in 2002 and a member of Gartner's Senior Research Board in 2007.
Industry Awards/Accolades
• Gartner Fellow
• "IT Risk" selected by CIO Insight magazine as one of the top 10 IT/business books of 2007
• "The Real Business of IT" selected by CIO Insight magazine as the best IT/business book of 2009