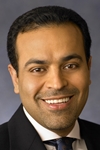 Sanjay Mirchandani
EVP
EMC
Symposium Roles
Speaker/Panelist 2013

Panels Participated in
Bio
Executive Vice President Sanjay Mirchandani supports EMC's rapid growth market initiatives; liaises with global customers; and contributes to the Company's new Pivotal Initiative, which is tasked with unleashing the truly transformational capabilities of cloud applications, mobility and Big Data.
Most recently as Chief Information Officer and COO, EMC's Global Centers of Excellence, Mirchandani built EMC's seven global Centers of Excellence, consulted with the business on critical initiatives, and completely transformed EMC IT into a value-driven and industry-leading showcase for our customers. Under his leadership, EMC's award-winning IT organization furthered operational excellence; overhauled its line of business systems; and drove business agility while helping the company save and avoid more than $100 million in equipment, power, space and operational expenditures on its journey to the cloud and IT-as-a-Service.
As COO, Mirchandani oversaw the worldwide R&D, customer support and shared service initiatives at EMC's Global Centers of Excellence. This builds upon his previous role as Senior Vice President for EMC's Office of Globalization, where he championed global growth opportunities and secured strategic international partners to support the Company's aggressive expansion initiatives. Additionally, during his tenure at Microsoft, Mirchandani served as Regional Vice President, Enterprise Services in Asia working with the region's largest customers and partners and held multiple management positions, including President, Asia Pacific Region; President, South Asia; and Managing Director, India.
Mirchandani serves on the advisory board for Northeastern University's Center for Emerging Markets (CEM) and Pratham USA's Boston Chapter, and is a member of the Leadership Council for Information Advantage. Sanjay earned his master's in business administration from the University of Pittsburgh and bachelor's degree from Drew University. He received Drew University's prestigious Achievement in Business award in September 2011, and was recognized as one of Computerworld's Premier 100 IT Leaders and the Boston Business Journal's CIOs of the Year in 2012.