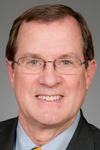 Stephen C. Neff
Enterprise Chief Technology Officer
Fidelity Investments
Symposium Roles
Speaker/Panelist 2014
CIO Award Finalist 2014

Panels Participated in
Bio
Steve Neff is the enterprise CTO at Fidelity Investments, a leading provider of investment management, retirement planning, portfolio guidance, brokerage, benefits outsourcing and other financial products and services. As a member of the firm's Executive Committee, he is responsible for the coordination and execution of the firm's technology functions and chairs the enterprise CIO council.
Mr. Neff joined Fidelity in 1996 and prior to his current role, he was a senior technology consultant supporting large technology initiatives across the enterprise. From 2005 to 2009, he was the CIO for Fidelity's Asset Management businesses.
Mr. Neff began his career with IBM Corporation in New York in 1974 and later held technology leadership roles with Salomon Brothers in New York and London.
Outside of Fidelity, Mr. Neff is a board member of Common Impact, a nonprofit organization focused on skills-based volunteering. He also serves on the board of St. Francis House, which provides comprehensive life services for the homeless in Boston.
Mr. Neff received a bachelor of arts degree in math from Rutgers College in 1974.
"We have reached an important inflection point for business and technology where technology leadership plays an increasingly critical role in ensuring our customers' success. In that light, I am very honored to be considered for the MIT Sloan CIO Leadership Award."